Who was St. Oscar Romero?
22 Mar 19
On the 14th of October 2018, Pope Francis canonised seven saints in Rome's Saint Peter's Square – a ceremony years in the making. Canonisation is a lengthy process that involves extensive investigation into the subject's life, approval from different councils and authorities and two miracles.
Among those canonised was Oscar Arnulfo Romero – a profound figure to Caritas, the Catholic Church and El Salvador overall. So, who was he and why is he an important person to commemorate?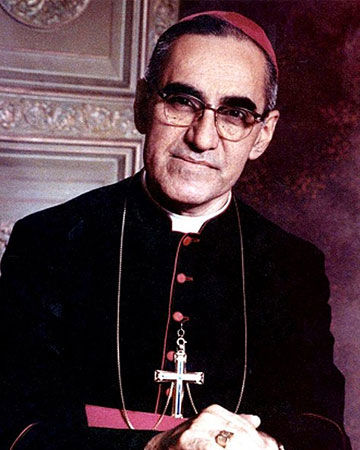 He was the Archbishop of San Salvador during a time of political upheaval
At the time, San Salvador was a deeply divided country. Many people lived in poverty, while a small group dictated the country's wealth and political power. Oscar Romero became the Archbishop of San Salvador, the capital of El Salvador in 1977. Many thought he was a "safe option" that was not likely to disrupt the status-quo.
The situation in El Salvador began to escalate in the 1980's, when its civil war begun. The government-supported military was determined to execute anyone suspected of supporting social and economic reform. On the other hand, rebels and guerilla groups were determined to rise up against the government and their human rights violations.
He was vocal about human rights
Shortly after becoming Archbishop, a close friend of Oscar Romero's Fr. Rutilio Grande was shot by a death squad on the way to celebrate Mass. Fr. Grande's death is sometimes described as the beginning of the persecution of the Church in El Salvador. The following Sunday, Archbishop Romero allowed only one Mass in the archdiocese – at the Cathedral where he spoke out against the murders.
Romero became a fierce advocate for human rights. He spoke up repeatedly for the voiceless, listening to the stories of the poor and establishing aid projects and pastoral programs to support the victims of violence. He fearlessly denounced the injustices of the military, who had murdered and terrorized thousands of citizens.
He had a link with Caritas
Archbishop Romero was also widely known for his fiery sermons. At a time where press was heavily censored, CAFOD (Caritas member in England and Wales) supported his radio broadcasts. When Romero's radio station had blown up, CAFOD dedicated funding to rebuild it.
His dedication to social justice and Catholic social teaching, particularly the preferential option of the poor, has since earned him the title of Patron of Caritas Internationalis.
He was a martyr
On the evening of March 24 1980, only three years since he was named Archbishop, Oscar Romero was shot by a single bullet while celebrating Mass. Moments before his death he proclaimed, "Those who surrender to the service of the poor through love of Christ will live like the grain of wheat that dies… The harvest comes because of the grain that dies." He was named a martyr of the Church and of the poor.
St. Oscar Romero served as a beacon of hope and courage in a place ravaged by poverty and sorrow. His relentless pursuit of justice and desire to speak for the marginalised is summarised in his famous quote, "Aspire not to have more, but to be more."

Learn more about St. Oscar Romero through our education resources: