Vannak's Story
09 Dec 19
When Vannak left school at 15 to support his family he felt a sense of hopelessness and knew that he could end up in a youth gang. The Youth Empowerment Project, run by Caritas Australia's partner, Youth for Peace, gave Vannak a whole new sense of direction.
Photo credit: Caritas Australia
One of four children, Vannak, 17, his siblings and parents live in Andong Village, the largest slum in Cambodia and only 15 kilometres from Phnom Penh city. Home to approximately 8,000 people, Andong was established in 2006 when the inhabitants were driven from their homes in Sambok Chap, near the Bassac River. Their former homes have since been demolished to make way for development. When he was 15, Vannak left school to support his family. Around the same time, in the hope of achieving a better life, his parents had borrowed money. So every week he would give most of his daily earnings 12,000 Riels ($3) to them.
Although he was helping his family, Vannak felt a sense of hopelessness and knew that he could end up drinking alcohol and gambling in a youth gang. "Adults thought I was useless ... However they sometimes praised me as a good boy because I was helping my parents pay off their debt," he said. In Cambodia, 26% of the population is aged between 15 and 25 years old. Youth, in places like Andong, are in a difficult position to change both their situation and their society. Viewed as second class citizens by many in Cambodia, Andong youth often experience discrimination.

In response, the Youth Empowerment Project (YEP) was designed to provide life skills and vocational training such as handicrafts, gardening and small business management. Their goal is to increase youth employment, as well as build a sense of responsibility and solidarity in youth.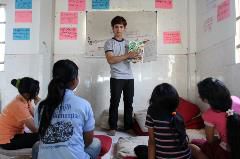 Photo credit: Caritas Australia
Vannak heard about the project, so he decided to give it a go. As his parents were dependent on his extra income, initially they were apprehensive. However, when Vannak told them he could earn an income through skills learnt at YEP, they understood the importance. This was a chance for the family to be free from poverty. At first, Vannak wasn't focused on learning; he was so hungry that what he most looked forward to was eating the food provided.
However it didn't take long for his hunger to grow for something else – learning; in particular silk screen printing and gardening. "The goal of the project is very clear and helpful, it is like our Godmother. It has shaped our thinking and provided us with skills to improve our living conditions," said Vannak.