Resilience in Rohingya refugee camps
27 Nov 18
As Eleanor Trinchera arrived at Cox's Bazaar in Bangladesh, where hundreds of thousands of Rohingya people are living in refugee camps, she was struck by the view before her.
"It's just massive, you can see the different colours of the roofs and it was a bit overwhelming because it was so bare. Some of the roofs are already broken down, in a state of disrepair," says Eleanor, Caritas Australia's Program Co-ordinator for Bangladesh and Nepal.
Rohingya Refugee Camp in Cox's Bazar
Photo Credit: Eleanor Trinchera
"However, what caught my eye was, it was raining, and while I was looking at the expanse of the houses, shelters, there was one kite. I think it was light yellow that someone was flying it and I think it signified a bit of hope that even in that dire circumstance, someone was playing."
She also saw long queues of Rohingya refugees, lining up for gas cylinders which they use for cooking.
"Caritas Bangladesh, Caritas Germany, with UNHCR were distributing LPG cylinders to almost 19,000 refugee families they were targeting at that time," says Eleanor.
"It was muddy because it had been raining. Some were smiling, some were really just talking to each other, they were all gathered together, they were all coming in, waiting for their forms to be checked so that they could get gas tanks."
Kite-flying in Rohingya refugee camp
Photo: SCIAF Bangladesh
Caritas' international network has also established child-friendly spaces in the camps and there, Eleanor watched children drawing and learning lessons in their native tongue.
"This means that they don't forget their own language and they get the skills and they're able to express what they think and how they feel.
"Some children were just showing us their drawings and some were just criss-crossed in black and some were showing children walking from their house to a water spot, so it's was just really different because each child has their own representation of what they think or what they felt at that time," Eleanor says.
An estimated 900, 000 people, most of whom identify as Rohingya, crossed into Bangladesh in August 2017, fleeing violence in Myanmar's Rakhine State.
Their future uncertain, it's likely that they'll remain in these temporary shelters long-term.
Caritas Australia, in partnership with Caritas Bangladesh and other Caritas member organisations, has provided non-food items and established water, sanitation and bathing points. UNHCR and Caritas Bangladesh are also looking at medium and long-term shelter options. Health and sanitation are likely to pose a challenge for long-term living in the camps.
"Another issue is, it's the cyclone season from November to early January and already when the rains come now, the roads are so muddy and slippery you can see some of the drainage is overflowing."
"Caritas is also addressing the women-friendly spaces and have trained 'barefoot counsellors' – that is, they're training people in the host community and they get the refugees themselves to talk to other refugees, to counsel them, so they go door-to-door to help women in particular to overcome the trauma that they experienced," Eleanor says.
Eleanor says it's one of the worst humanitarian crises she has seen in over 30 years of working in aid and development.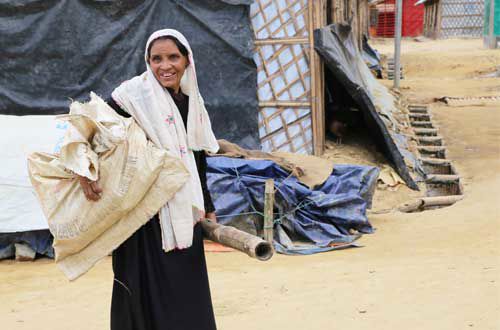 Rohingya Refugee Camp in Cox's Bazar
Photo Credit: Immanuel Ghayan, Caritas Germany
"In terms of looking at the future, it's quite bleak at the moment but what's interesting though, is even if the situation is bleak, some people are still hopeful that something good will come out."
"With the children, it seems like they're trying to adjust to the circumstances," and the adults just want to overcome what's happening with them," Eleanor says.

Click here to donate to those affected by the Rohingya Refugee Crisis