Recognising the value of education
05 Oct 20
This World Teachers' Day, Caritas Australia celebrates the many teachers around the world who bring hope to the next generation through education and mentorship. The theme for World Teacher's Day this year is "Teachers: Leading in crisis, reimagining the future".

Caritas Australia supports Sustainable Development Goal 4, which aims to provide inclusive quality education for all. We believe that every human being has the right to participate in the decisions that affect their lives. This is why Caritas Australia works with local communities to support and develop local capacity in decision-making through education or training.

Education and development are also closely linked, because when a community has improved access to water or food security, children are less likely to spend hours collecting water or food for their families. This means that supporting a community to build a well or improve their farming practices can help more children in the community finish school.

This year for World Teacher's Day, we want to highlight some of the staff who work with teachers in Australia to bring the stories of Caritas Australia to local schools.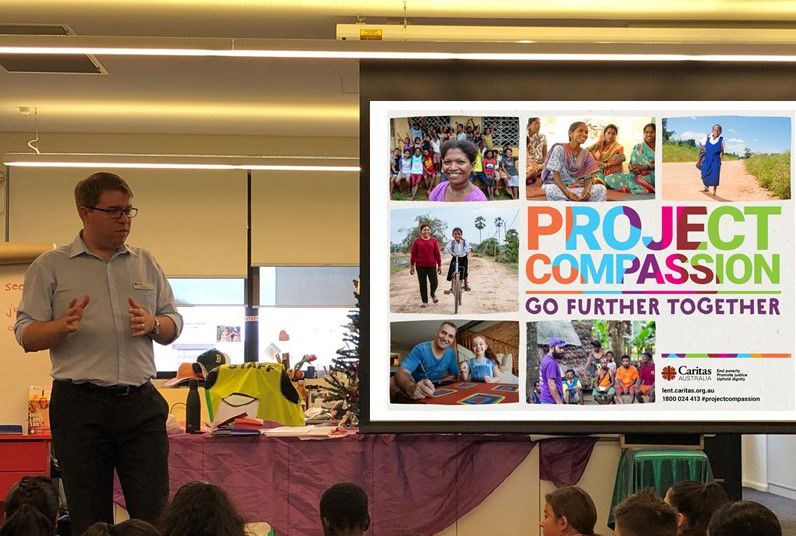 Chris Nolan, the Social and Ecological Justice Animator for NSW & ACT, is keen to share the stories from our programs with schools and parishes.

"In my experience it's stories that really interest the students and teachers in our work," he says. "They want to know what's happening overseas, so we share videos and photos, and sometimes even connect schools with our staff who can tell stories from the field. This storytelling is really powerful — it shows us that we may be far away, but we still have so much in common, like our common dignity and humanity."

Despite nationwide restrictions due to COVID-19, Chris and the other Animators have been able to reach new communities now that they've moved online. They're finding new ways to connect international development program staff with schools and parishes through innovative digital forums.

"Recently we had a digital forum with about 20 different schools," he says. "The students and teachers had amazing questions about our impact and wanted to know how can support us. I think that these sessions inspire people to see that although there are many negative stories in the media there is a lot of hope out there in the communities where we work. They can see we're contributing to something that is providing hope in very difficult circumstances."