Project Compassion 2019: The story so far
20 Mar 19
Coming from one of the wealthiest countries in the world, it is challenging to recognise the scale of extreme poverty in Australia's region and around the world. An example of this is that about 600 million people lack access to clean water and the 2.3 billion people have no basic sanitation.
Since the launch of Project Compassion on March 6, students, parishes and community supporters throughout Australia have taken action in an effort to make a difference on this situation. Fundraising for Caritas Australia's international programs as part of our main annual appeal, Project Compassion, has officially begun.
Project Compassion's 2019 theme of "Hope" centres on six stories that profile Caritas' life-changing development work in communities across the globe. The stories come from Zimbabwe, Indonesia, the Solomon Islands, Australia, Bangladesh and Vietnam.
Apart from fundraising efforts, the appeal also seeks to raise awareness of the current global water crisis and how Caritas Australia is responding to it.
Here's a snapshot of what has happened so far:
We welcomed our international guest speakers, Super Dube from Caritas Hwange (Zimbabwe) and Baskoro from Caritas Indonesia (Karina).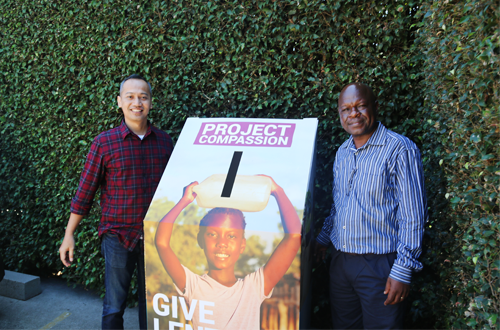 International guest speakers Baskoro (left) and Super Dube (right).
Photo credit: Caritas Australia
School and parish launches across Australia have invited communities to "Give Lent 100%".
Sydney Catholic Schools launch. Photo credit: Caritas Australia
Project Compassion launch, Clontarf College. Photo credit: Caritas Australia
The determination we have already seen from fundraising efforts this year have been overwhelming, from challenging Give it up for Lent pledges to International Women's Day events.
Super Dube with St Kilian's Caritas Justice Representatives and some attendees at a Bendigo Dinner. Photo credit: Caritas Australia
Marist College at Sandhurst Project Compassion launch. Photo credit: Caritas Australia
West Tigers Head Coach, Michael Maguire has shown his support for Project Compassion and urged supporters to "Give 100%".
Michael met Super Dube in 2017 when he embarked on a life-changing trip to Zimbabwe with Caritas Australia. They were recently reunited as Michael introduced Super to the West Tigers' players.
Michael spoke about his support of Caritas, saying he "couldn't believe how far a dollar could take so many people" in countries less fortunate than ours.
Caritas Australia is part of one of the largest international aid and development networks in the world and works to empower vulnerable communities in 27 countries globally. Last year thanks to its supporters, Caritas reached over 1.85 million people directly through its emergency and development programs. To donate to Project Compassion or to learn how to host a Pancake Tuesday, Fish Friday or Water Challenge visit Caritas Australia's website, or call 1800 024 413.