On the front line of our COVID-19 response in Zimbabwe
11 Jun 20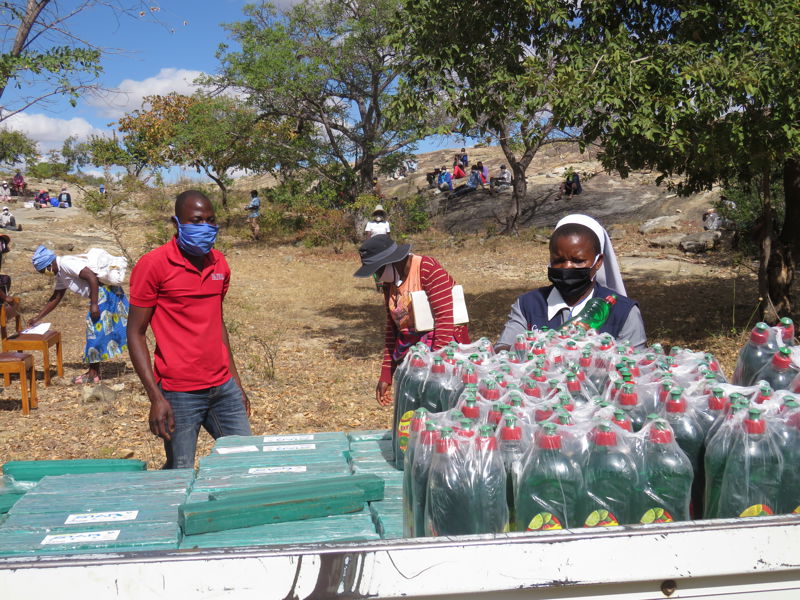 Jephas Tichapondwa says his initial challenge when COVID-19 hit Zimbabwe was helping people in rural communities to understand this new virus.

"To many, coronavirus was a disease for the people in town and people in other countries," Caritas Gokwe's Program Manager says. 
"I had never heard of a disease that could bring the whole world to a halt. It's quite a new experience and I also couldn't quite understand it initially but now I do understand it. And then when we helped people in these remote areas to get regular updates from the radio, posters, flyers and videos about coronavirus, then they started accepting it," he says.

Jephas says at first, no one could understand why he was wearing a mask. "The very first day I went to a community, wearing a mask. I became the corona myself. They thought the mask meant that I had the virus. Then I had to lower the mask and explain to them the need for the mask." There have so far been four deaths and nearly 290 confirmed cases of  COVID-19 in Zimbabwe – but there are fears that the country's poorly equipped medical facilities would not cope with a severe outbreak. 

This makes Jephas' work all the more crucial. He says that Caritas Gokwe had to quickly adapt its existing programs to deal with coronavirus – and he is grateful to Caritas Australia's flexibility in supporting those changes.

New strategies include training local leaders and traditional healthcare workers in hand washing and social distancing measures, particularly crucial while gathering at water points and taps. The leaders are then able to share their knowledge with other community members. Caritas Gokwe has also been distributing hygiene kits, including soap and hand sanitisers, protective equipment, such as masks, as well as helping the most vulnerable communities to make simple, makeshift 'tippy taps' for safe hand washing.

Jephas says the coronavirus pandemic means that it can be more difficult to move around to help communities to get what they need – such as establishing water points, building dip tanks and starting income-generating groups. 

Through your generous support, Caritas Gokwe, with Caritas Australia, is continuing to help Zimbabwe's most vulnerable communities during these challenging COVID times.

All around the world, there are still many communities that urgently need help to fight the spread of the virus.
Your tax-deductible donation can help deliver urgent supplies, such as soap, clean running water, masks and food that will continue to save lives in the world's most vulnerable communities.