Nepal Earthquake Recovery Program
23 Oct 19
Nepal is a land of rich natural beauty, best known as the home of the majestic Himalayas, yet, it is also one of the poorest and most underdeveloped countries in South Asia.  This fragility and vulnerability is caused by its remote location and susceptibility to natural disasters, which in recent years have stricken the country.
On April 25, 2015, a powerful 7.8 magnitude earthquake struck Nepal, killing 8,800 people, injuring over 22,000 and destroying in excess of 6,000 homes. This was accompanied by a severe aftershock a fortnight later on 12 May. Thanks to the generous support of the Australian Government and Australian Catholic Community, Caritas Australia and Caritas Nepal reached 59,000 households with emergency aid.
Following the devastating earthquake of 2015, Caritas Australia and Caritas Nepal launched the Nepal Earthquake Recovery Program. People learnt capacity-building activities, acquired knowledge to make new livelihoods through building, farming and access to safe shelter, drinking water and improved sanitation services.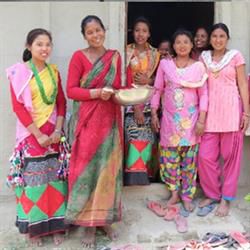 Photo credit: Caritas Australia
Photo credit: Caritas Australia
Highlights from the Nepal Earthquake Recovery Program
97% of the targeted 4775 households are living in earthquake resistant newly built houses and 758 masons have been trained.
The Sukekhola Bandarikhop Drinking Water System was implemented with over 840 new system installations delivering drinkable water.
4502 affected households have improved access to safe drinking water.
154 hygiene awareness sessions, attended by 4,728 community members, have been rolled out.
Seven school buildings have been constructed accommodating over 1200 children.
81.3% of households have improved food security since the earthquake.
Photo credit: Caritas Australia
Photo credit: Caritas Australia
Photo credit: Caritas Australia
Feeling Blessed
Sanjib Khatri, a 19 year old boy from Thokarpa village, in the Sukoshi Rural Municipality, has built an earthquake-resistant house, under the Nepal Earthquake Recovery Program. Since being abandoned by their parents at a young age, Sanjib and his sister have been supported by an uncle. When the earthquake hit, they received emergency aid from Caritas Nepal, including food, a WASH kit (Water Sanitation Hygiene), agriculture seeds and corrugated iron roofing sheets for temporary shelter.
To support the family, Sanjib left school to work as an assistant conductor for a bus service. Eventually, he was the successful recipient of a grant to build a new home and is working towards creating a safer, more dignified livelihood for his family.
Caritas Nepal has provided Sanjib with technical support and financial assistance with labour costs for the house's construction, using earthquake-resistant technologies.
Sanjib says, "Building a house of my own was not even in my mind till Caritas Nepal approached. I can't thank Caritas Nepal enough for their technical, financial and moral support. I feel blessed to have a house of my own".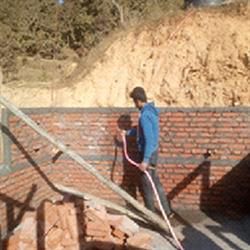 Photo credit: Caritas Australia
Photo credit: Caritas Australia
Your support is allowing the people of Nepal to overcome the shocks of natural disasters and to move forward with renewed purpose and strength.


To view Caritas Nepal's Rising from the Rubble earthquake, watch the video here.