Lachlan Brannan Shaves his Head for Climate
31 Oct 19
"When I started learning about climate change in school, I found out how droughts, floods and increased storm activity affect the livelihoods of people all over the world. Climate change affects everyone."

We spoke to Lachlan Brannan – a South Australian university student fighting for climate justice.
Lachlan Brannan before the chop. Credit: Lachlan Brannan.
South Australian university student Lachlan Brannan has made the bald choice to shave his head for climate justice. Having already raised over $1,500, tripling his initial goal, Lachlan has chosen to support Caritas.
"I've chosen to fundraise for Caritas because it is a charity I whole-heartedly believe in and have been able to see makes real change to people's lives," he said.
A member of the Caritas Diocesan Committee, Lachlan was able to witness Caritas' work firsthand after a visit to Timor-Leste in 2018.
"I was thrilled to see the impacts Caritas makes to the lives of others (in Timor-Leste). Although, despite my initial excitement, I was disheartened to see the toll that climate change was taking on this community through drought and rising sea levels".
Caritas has been working with vulnerable communities in Timor-Leste for 20 years, supporting programs to enhance sustainable livelihoods and reduce the impact of natural disasters.


Changes to our climate primarily and disproportionately affect the world's poorest people. Natural disasters such as droughts, floods and cyclones are increasingly frequent and the majority of them are occurring in developing countries. With such widespread effects of climate change, it is easy to get lost with how individuals can help.
"When I first started looking into climate justice, I became so overwhelmed with the amount of information out there - the issue just seems so big. By making small changes every day and learning more about the issue, we can all start to make a difference," he said.


So what can young people do to help? According to Lachlan, there are many easy ways to start:


Cut down on single use plastics
Catch public transport, or better yet walk or ride a bike
Make your diet more planet friendly – eat more fruit and vegetables, and look out for locally sourced and in season foods (This helps lower carbon emissions and also puts money back into your local economy!)
Donate to the charities and organisations taking action
Volunteer with conservation organisations in your local area
Lobby or send letters to your local member of parliament
As Lachlan pointed out, Caritas has some fantastic resources devoted to engaging local representatives that can be found here.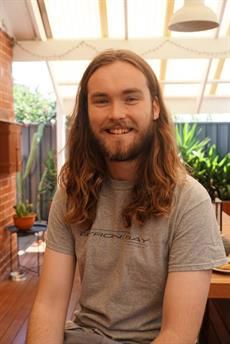 Before. Credit: Lachlan Brannan. 
After. Credit: Lachlan Brannan. 
Despite the challenges ahead, Lachlan and Caritas share the same optimism looking towards the future.
"I like to focus on the solutions rather than the issues. I have been so inspired by witnessing students and young people taking charge on the issue, standing out and striking for climate justice. I know that if we can keep bringing our voices to the table we can make change towards a world that is healthy and prosperous for all," he said.


The team at Caritas Australia wish to extend our congratulations and gratitude to Lachlan for his commendable efforts, and we can't wait to see what he gets up to next!
Caritas Australia is dedicated to helping vulnerable communities adapt to the impacts of climate change, which already affects millions of people around the world.

Lachlan's hair may be shaved off, but it's not too late to support his fantastic cause – https://fundraise.caritas.org.au/lachlanbrannan.


Alice McGowan is a Digital Communications Specialist at Caritas Australia.