Kiribati and Sea Level Rise: How Mangroves Help
13 Dec 19
Teruabine Anna Nuariki, climate activist and Caritas partner from Kiribati Climate Action Network, has presented at COP25 for a second time, speaking of innovative climate adaptations happening in her island nation of Kiribati.
(This is blog 2 of 2 in a series on Anna's experience at COP25. After you've read this, see blog 1)
Teruabine Anna Nuariki amongst the mangroves in Kiribati. Credit: Zhi Yan
Total global emissions have been widely discussed at this year's Convention, with many nations reflecting on the role they play in reversing climate change. Here in Australia, despite making up only 0.33% of the world's population, we contribute 1.4% of total global emissions. Include fossil fuel exports in this figure, and it rises closer to 5%.
Climate change primarily and disproportionately affect the world's poorest people. Natural disasters such as droughts, floods and cyclones are increasingly frequent and the majority of them are occurring in developing countries. This has led to forced migration, with many in the Pacific concerned about the future of their homes.
Kiribati, a small island chain home to 117,600 residents, has been experiencing these impacts first hand. Anna describes the internal migration happening in Kiribati, "I think two or three rows of houses near the sea have been taken out by the waves and the people had to move inland to find a place to live."
Mangrove forests provide a promising solution for the future.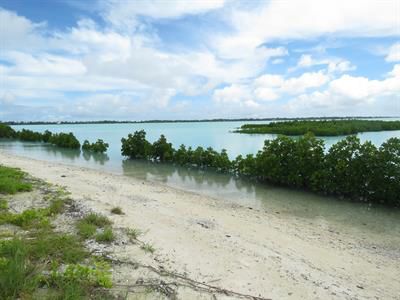 Mangroves provide shelter in Kiribati. Credit: Zhi Yan
Adaptation through nature
Mangroves are salt-resistant trees that line shores throughout the tropics. Among many benefits, they act as a storm barrier, provide rich habitat for native species, reduce pollution impacts on the sea, and perform as a carbon sink.
In Kiribati, there are four types:
Te Nikabubuti (White mangrove)
Te Aitoa (Black mangrove)
Te Tongo Buangi (Oriental mangrove)
Te Tongo (Red mangrove)
In 2011, the Kiribati government planted over 37,000 mangrove seedlings to protect the shores against coastal erosion. Eight years on, the planting continues. Anna acknowledges the importance of the mangroves for the future of her country.
"The Kiribati Institute of Technology are working in partnership through planting mangroves. This is one of the most successful events that has been carried out to help with what has been going on and to address the effects of sea level rise, helping the sand to hold instead of being deteriorated."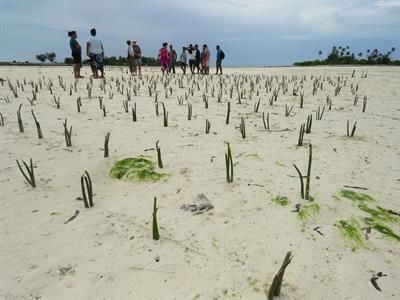 Mangrove seedlings (propagules) planted this year. Credit: Zhi Yan.
"At the grassroots level, people have been contributing to enhance the NDC (Nationally Determined Contributions) by small actions like planting mangroves."
Whilst this planting may be considered a minor adaptation technique, the benefit to the Pacific is unquantifiable. Mangroves decrease the strength of storm surges and strong waves, acting as a barrier between the ocean and the land.
They also hold a social importance for the low-lying atolls in the central Pacific.
"Mangroves are very special for us in Kiribati. Knowing that we are only 3 metres above sea level, mangroves are what I call our giants, in the sense that they are protecting our land from erosion."
For some islands, these forests are the only means of protection.
The beginnings of a mangrove forest. Credit: Zhi Yan.
A long way to go
"Despite what we are doing, we still need urgent innovation solutions, since the increasing temperature and mitigating global emissions is beyond us. Kiribati is only contributing 0.001% of the total global emissions."
With reference to Australia's disproportionately large carbon emissions, Anna requests we all look for ways to tread lightly on the earth, our common home.
"We need to do advocacy programs and practical activities as this is the only way to make things happen… Our government is focusing heavily on adaptation. Adaptation is our priority, so we can adjust to the changes that we have experienced, are experiencing, and will continually be experiencing."
Anna sorting mangrove propagules. Credit: Zhi Yan.