Kilometres for Compassion: Santa Maria's Caritas Ks
03 Apr 19
Beyond the extraordinary generosity we witness every Project Compassion, we are often moved by the wisdom we see when young people see the value of and apply Catholic Social Teaching in their own lives.
Below is a reflection from Livia Lingenti, Year 9 Faith Leader from Santa Maria College Northcote, Victoria.


Caritas Ks
This year, 2019, marked another great year of Santa Maria's involvement in the Caritas K's fundraiser at our annual Swimming Carnival.  On Friday the 1st of March more than 50 girls across Years Levels 7 to 12 participated in Caritas K's.  The girls each elected to walk laps of a 20 metre pool with a maximum of walking 40 laps, which is equivalent to 1km.  
This act not only raised money for Project Compassion, through the many generous sponsorships; but was a public action of solidarity. Students were representing the Santa Maria community in walking with those around the world who must walk, run or swim to receive basic necessities.  Through this action we created awareness in our community of the injustice that millions of people around the world are deprived of basic daily needs that we have such easy access to here in our home, Australia.
Many of the youth facing adversity must compromise their education to access everyday necessities such as water.  The amount of time lost while having to travel daily to collect something as essential as water means limited opportunity for education, therefore impacting on the hopes many young people have for their future of.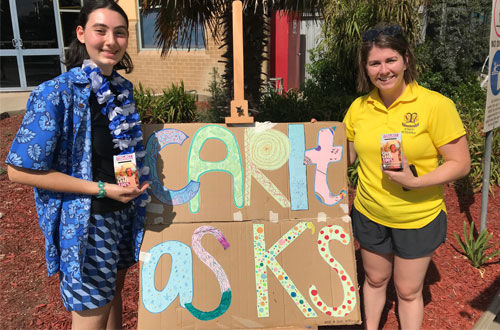 Students from Santa Maria Northcote gave Lent 100% at this year's swimming carnival.
Photo credit: Caritas Australia
Participants in the Caritas Ks event were aware that, although others have no choice but to go to great lengths to get water, we have the capacity to stand in solidarity against these injustices and adversities.  This message was further conveyed as each student was given a card displaying a challenging statistic regarding the injustices many face; or a 2L bottle of water to carry as they complete their laps. 
As I walked my own laps I had the time to reflect on the challenges that many face, and to reflect on how I and many other girls were raising awareness about these issues.  It brought to my attention our power and ability as youth to respond creatively to the adversity affecting others in the world.    While completing my laps I also felt a sense of school pride, seeing the amazing turnout, as each of the pool's lanes were filled with girls completing Caritas K's throughout the whole day. 
These outstanding efforts are a true reflection of the passion from Santa Maria Students who participated and the generosity of the many who donated.