International teacher's day
03 Oct 19
Photo credit: Caritas Australia
Photo credit: Caritas Australia
Saturday 5 October marks International Teacher's day, celebrating the success of teachers throughout the world, creating a bright future for students. The day also affirms the importance of recruiting the best young talent, retaining their expertise and inspiring a lifelong love of learning.
Caritas Australia's Education and Advocacy program's approach cultivates students' awareness of poverty and injustice, inspires reflection upon their own worldviews, their interconnectedness with others and the global issues that are the root cause of poverty.
From social justice to global awareness and action, Caritas Australia's Education program offers a diverse and engaging approach to develop capacity within students to be creative, confident, resilient and actively informed citizens who aspire to be more.
Meet Megan Bourke, Social Justice Educator. Photo credit: Caritas Australia

Megan Bourke is a Social Justice Educator enjoying seven prosperous years (and counting!) at Caritas Australia. Megan conducts Global Social Justice Education and leads selected teachers in Caritas-supported programs.


We spoke to Megan on World Teacher's Day and share her insights into Social Justice Education.
What inspired you to become a Social Justice Educator for Caritas?
My parents were highly engaged as 'doers' in our parish and it was an expected way of being in our family that a life should be lived for others. At primary school, I was educated in the Montessori Method. This method imbues children with a sense of 'learning in community for community" so I I learnt about sharing for the Common Good very early. I spent many years in Catholic Secondary schools and I used Caritas Australia Education resources as they enabled me to enrich learning about big global issues with the lens of Catholic Social Teaching. When the Caritas Justice Educator position in Melbourne became available, I felt called to extend my vocation and quite literally felt that I had "come home."

What are the qualities of a great teacher?
I could list a plethora of qualities like being skillful at communication in various forms, highly organised, adaptable, compassionate and possessing great emotional intelligence. In a sentence, a great teacher needs to be a willing life-long learner.
Everyone on Earth deserves to live a full and beautiful life. Education for All is at the heart of achieving this. On this day educated people have the opportunity to reflect on the wonder of their own greatest teacher.  Give thanks to teachers who have imparted knowledge and skills to you, enabling you to share your gifts with whomever you meet.
I'm proud to have educated (and I hope influenced) hundreds of thousands of students, teachers and school leaders about the empowering work of Caritas's partners and communities.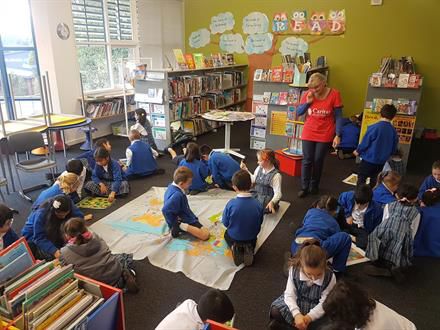 Photo credit: Caritas Australia
To find out more about Caritas Australia's Education and Advocacy program contact your local Justice Educator or visit our website.