International Day of People with Disability
03 Dec 20
Phuong* is nine years old and lives with his parents, two younger brothers and grandparents in a small house in a poor area of Quang Tri Province. He was born with hydrocephalus, a medical condition which causes seizures and makes speaking and walking difficult.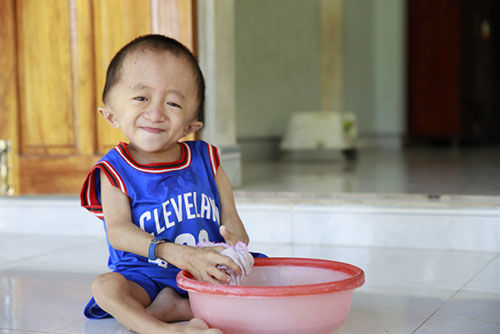 His mother, Van*, and father, Phong*, are farmers, growing sweet potato, beans and corn, as well as raising pigs. Phong also works as bricklayer when jobs are available and Thanh helps her parents-in-law to raise chickens and cows.
Caring for Phuong takes a lot of their time and his father sometimes has to miss work to stay home with him or take him to the hospital.
"This means that we hardly earn money but also have to pay for hospital and other expenses as well," Phuong's mother, Van says. "I have to keep an eye on him all the time because his bones are easily broken. He often breaks something twice a year and has to wear plaster."
Phuong's parents felt that they were in a hopeless situation and were afraid their son wouldn't grow into adulthood.
Then in 2012, Phuong's parents became involved in Caritas Australia's Empowering People with Disabilities program, through its partner organisation, Sustainable Rural Development (SRD). His family was able to access a rehabilitation therapist who made home visits. Phuong also attended a community-based class to learn to read and write, while his mother and father joined a support group for parents of children with disabilities. In addition to learning more about caring for Phuong, they learnt skills in cultivation, animal husbandry and disaster risk reduction, to help boost the family income.
"I learnt simple counting, how to put letters together to make words and colouring pictures," Phuong says. "Now, I often play with my brothers, building things together after dinner. Also, we colour pictures and study together, as I can guide them a bit," he says.
Phuong's health has also improved significantly and he no longer has to go to hospital as often. Phuong's parents feel less isolated and are supported by a community of families who can share their experiences and help each another.
"We are very happy. I learned a lot especially how to look after Phuong," Van says. He knows more people in the community now, thanks to going out and about with me to activities. If he is healthy and independent, we are happy and have time for housework. The program also helped me with raising sows, so I could earn some money from selling piglets and could save some for hospital fees when Phuong gets sick and we are starting to save money towards our own house."
COVID-19, however, has posed new challenges. At times, Phuong's rehabilitation therapist could not visit their home and Phuong could not go out to his community-based classes.
"We could not sell agricultural products at the market and they became rotten," Van says. "We had to buy more cleaning liquid and soap that we could use to wash hands more often and clean the house more often. We weren't able to go out to visit neighbours, and weddings and other anniversaries stopped."
During the lockdown, Caritas' partners, SRD, continued to provide support to the family by keeping in regular contact with Phuong's teachers, as well as local health workers and parent clubs to provide updates regarding COVID-19 preventative measures. Staff worked to ensure that people living with disabilities and their carers had access to health and other essential services.
Despite the challenges, Phuong's mother says her son is making progress every day.
"He is counting until 100 now, count from 1 to 10 in English, he knows some colours in English, he knows how to write his name, He is more knowledgeable, confident, open, he smiles more. I want him to be healthy, happy and learn as much as he can," Van says.
She says this Caritas program also contributes to disability empowerment, reducing stigma and discrimination against families with children living with disabilities, and has boosted the family's confidence and status in their community.
"The program has contributed to changing many lives and destinies of children with disabilities, including my son," Van says.
On this International Day of People with Disability, we would like to acknowledge all our program participants in Vietnam, like Phuong and his family, along with our local partner organisation, Sustainable Rural Development (SRD). They support us every day, helping us to raise disability awareness, working towards 'a more disability-inclusive, accessible and sustainable post-COVID-19 World," which is this year's theme.
Around 1800 children with disabilities and their caregivers have been helped by this program so far. Up to 8000 people have benefitted indirectly, through livelihood support, income development and awareness-raising about people living with disabilities which can reduce discrimination and stigma.
Phuong's family would like to thank Caritas Australia - and to tell supporters that they are making the most of opportunities offered by the program.
"I am trying every day, I am happy, I can help my brothers, I will follow the therapist's advice to eat well and study well, to be obedient to my parents and grandparents," Phuong says.
"I want to become a policeman so I can chase the thieves or robbers, I saw on TV. I am happy because my mum went to training and that is good for her and I also have more friends now at the class where I learnt how to read and write."
*pseudonym
Along with your generous support, this program is supported by the Australian Government through the Australian NGO Cooperation Program (ANCP)