Human trafficking is a global problem
10 Dec 20
As part of Human Rights Day, we are looking at human trafficking, and the vital importance of universal human rights to prevent the exploitation of people through trafficking.
Defining Human Trafficking
Every year, thousands of men, women and children are forced into exploitative situations for profit. People are exploited for many reasons, including forced labour, exploitative child labour, sexual exploitation, domestic servitude, and to serve as child soldiers.
It is hard to know the true statistics of human trafficking because it is a hidden crime, but it's estimated that as many as 24.9 million people today experience human trafficking.
Human trafficking can happen to anyone
Almost anybody can be exploited through human trafficking.
However, human trafficking often happens to people who are vulnerable because of a lack of education and employment opportunities, social isolation, discrimination, or a lack of protection by adults or the state.
This is why children, people living with disability, and people experiencing poverty are especially vulnerable to human trafficking.
When we support people with education on their rights and livelihood skills training, this helps to reduce their risk of trafficking in the future.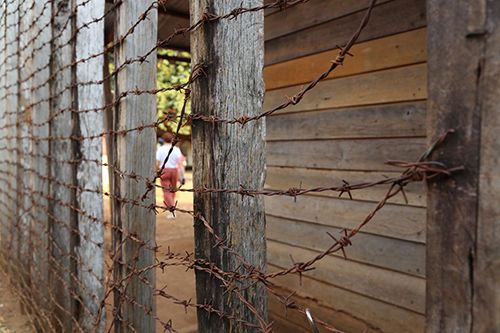 Human trafficking, slavery, forced labour or people smuggling?
Technical definitions of slavery, forced labour and human trafficking are slightly different legally, but the terms are often used interchangeably, because all three involve the exploitation of people for profit.
Although human trafficking and people smuggling are related, they are not the same thing. People smuggling is always across borders, whereas trafficking can happen in a person's home country. People smuggling may involve consent, whereas human trafficking does not involve consent.
Human trafficking facts and figures
Trafficking is an unjustifiable violation of the victims' freedom and dignity, which are integral dimensions of the human person willed and created by God. This is why it must be considered, without a doubt, a crime against humanity.
What we're doing to combat human trafficking
We work with communities and individuals to prevent human trafficking and support survivors.
Through our work, we support vulnerable people to protect themselves, by ensuring that people have the skills they need to support themselves, which helps to reduce their vulnerability to human trafficking. Children and youth learn about their rights and available services. And human trafficking survivors are assisted to rebuild their lives.
Reducing the risk of human trafficking in Cambodia before it happens
Cambodian women from disadvantaged communities are vulnerable to being trafficked to Thailand, Malaysia, Korea, and Taiwan, to work in factories, domestic labour or sex work. Cambodian women are more vulnerable to human trafficking when there are limited employment options.
We work in Cambodian prisons, where many inmates come from disadvantaged communities, with poor literacy and numeracy skills. Inmates, especially women, are at increased risk of human trafficking when they leave prison.
To help prisoners develop the skills necessary to build a meaningful life after prison, the prison program supports vocational skill trainings such as Khmer literacy, computer skills, sewing skills, traditional music, handicrafts, hairdressing and beauty therapy.
Inmates also learn about the consequences of drug use, human trafficking and domestic violence.
Around 4,500 inmates benefit from this program each year.
Supporting survivors of human trafficking in Zimbabwe
Survivors of human trafficking often need long-term and holistic support to rebuild their lives afterwards. Through the Putting Children First program in Zimbabwe, we work with partners and communities to support orphaned and vulnerable children, women, youth, people with disabilities and living with HIV/AIDS, the elderly and widows – all groups that are at increased risk of human trafficking when there are limited employment options.
The Putting Children First program also supports people to learn about their human rights and build sustainable incomes for themselves to reduce the risk of trafficking.
The program also works with survivors of human trafficking, such as Rita* who received medical and psychological support through the program's emergency funding for survivors.
Rita received support through the program to start generating her own income, and has built her own business buying and selling groceries. Previously, there was no way to buy groceries in her village, so Rita's new business means that her neighbours no longer have to walk long distances to other villages for groceries. Her successful new business has also helped her to re-integrate back into her community after being trafficked.
*name has been changed for protection.