How to help after the Indonesia Earthquake and Tsunami
04 Oct 18
In recent months, we have witnessed disasters devastating people's lives in the form of an Earthquake and Tsunami in Sulawesi, Indonesia; Typhoon Mangkhut hitting the Philippines and unusually high rains in Kerala, India.
Scenes of the aftermath of the 7.5 magnitude earthquake followed by a tsunami that hit Central Sulawesi on Friday September 28, 2018. Photo Credit: Putu Sayoga/CRS
It is a normal compassionate reaction when seeing the news coverage of these emergencies, to ask "how can I help?" It is important that our response is informed by best practice, so that we do indeed help and don't inadvertently make things harder for people in crisis.
Do: keep the people front of mind
Don't forget about the people affected by the crisis, just because the media cycle has moved on. Keeping people front of mind, including offering prayers and checking back in, is an important part of showing your commitment to acting in solidarity.
You can read more about these emergencies at the following links:
Don't: Send food, toys and clothing directly
It is important that international responses are coordinated with local government and local institutions like churches, so that the most effective response can be delivered, ensuring the people most in need are able to get support.
Sending goods directly can also negatively impact local markets and compete with people trying to make a living in difficult circumstances.
Don't: travel to emergency sites to volunteer
Unless you are from the area, you are more likely to be in the way of the local people who know the area, understand the need and will be there for the long term.
Emergencies are stressful and complicated events, and many people will be at high levels of risk. Well-meaning people can inadvertently make things worse, disrupting coordinated efforts and putting people at greater risk.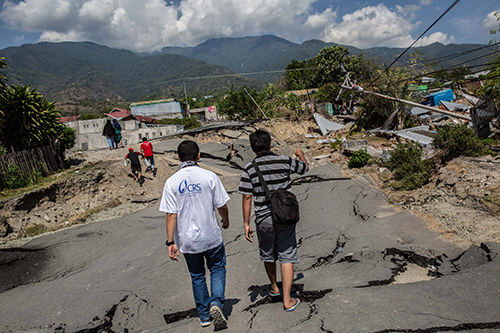 Over 1,200 people have been confirmed dead and emergency service fear that the death toll could rise.
Photo Credit: Putu Sayoga/CRS
Do: contribute through agencies that are well positioned to respond
Donations are vital to saving lives and helping people re-build.
If possible, support credible agencies that have a history of working in the affected area, have local networks that enable them to assess damage and respond quickly, and support longer term efforts to build back better.
Do: support disaster risk reduction, including through action on climate change
Reducing the impact of emergencies is possible. Programs of disaster risk reduction can help people build more resilient homes, plan ahead for emergencies and teach their children how to stay safe. Action on climate change in our own country is an essential part of reducing the severity and regularity of extreme weather events.