Helping India's most vulnerable people during COVID times.
06 Jun 20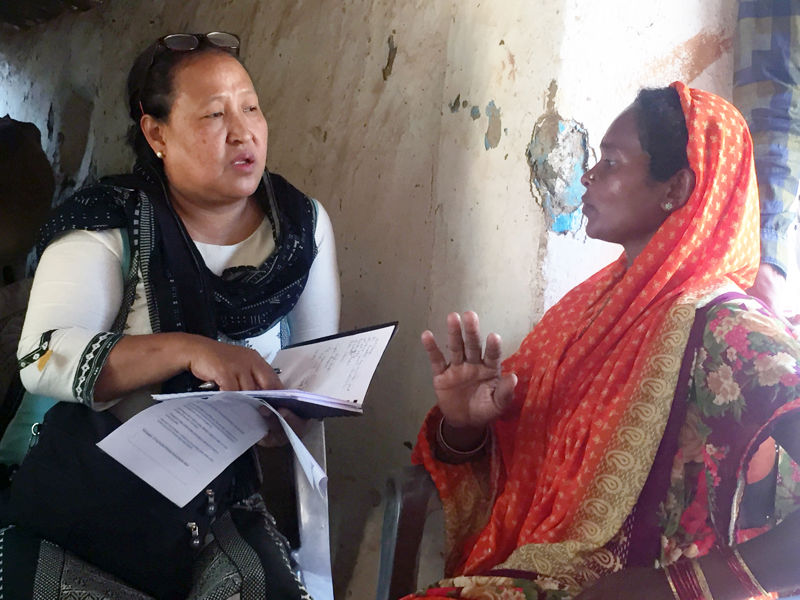 Caritas Australia's 2019 Women for the World speaker on life in lockdown in India.
Mungreiphy Shimray, or Shimray, as she is often called, says her Caritas India team has been besieged with calls for help from all over the country in recent months.

"There is a lot of fear there, I would say. What we can hear from them is, 'what do we eat next? How do we handle this situation, how do we feed the children?'" Shimray says.

"Most of the callers have families, they have been desperate in calling and following up, some of them maybe more than ten times, because probably they have nothing for tomorrow or today in the evening, and that's why they're desperately calling. Although they are contacting us for basic counselling, they share their trauma – and then they quickly move on to, 'is it possible to provide basic essentials, such as food, oil, gas, water, soap, medical and transport needs?'"

Shimray says it is the impact of COVID-19, as well as the coronavirus itself, which is causing distress. 

"It is the lack of a job, the lack of any money, because there is no more job. Even if it is daily wage labourers or food vendors that have lost everything - and the lack of food - so they are very much traumatised."

Shimray is an inspiring international leader in social development, gender and anti-human trafficking, with two decades of experience advocating for women's and girls' rights in her role at Caritas India.

Caritas Australia was delighted to host her 2019 visit to Australia, as key speaker for our Women for the World fundraising events. Funds go towards Caritas programs in 23 countries across Africa, Asia, the Pacific and with Australia's First Peoples.

Shimray says that continuing her critical work with women and girls has been challenging during COVID times. A months-long lockdown has constrained Caritas India's ability to reach out in-person to vulnerable women and girls - whose access to technology is also often limited.

"The communities we work through are not familiar with making contact via technology, so they are left out there and they are at the disposal of whatever circumstances and situations they're facing," Shimray says. "Our first step is orienting community leaders how to be on the virtual platform this way - and we would like to enhance their skills in technology, for use in field work."

She says that critical needs amongst the most marginalised communities increased, as millions of migrants returned to their home regions empty-handed, leaving their lives and livelihoods in cities and smaller towns.

Caritas India is providing psychosocial support through telephone counselling via its COVID-19 helpline and supporting vulnerable communities to source food rations, such as grains, rice, wheat flour, water, soap and medical needs. They are prioritising the most marginalised groups, including women and children, tribal communities, vulnerable farmers, as well as people living with disabilities and HIV/AIDS.

"In terms of gender-based violence, we have not come across too many yet. Maybe people have not had the courage to share so far. We will be working to find out if there are incidences or if there are potential incidences and then we will also orient our partners and our staff to deal with this."

With India's lockdown easing, there has already been a spike in the number of coronavirus infections - with more than 220,000 confirmed cases and over 6000 deaths. Shimray fears that in the rush to get back to work, India's most vulnerable people may be less focused on maintaining social distancing and sanitising measures.
"The donations you have collected from Australians has done marvels for those marginalised Indian families and especially the marginalised tribal communities, so we thank you for this support," Shimray says, "and we would like to ask that the community in Australia please continue supporting this initiative to reach out to this section of the community."

"We would like to extend our gratitude to Caritas Australia for being able to reach out to those very, very poor communities in India."
With your support this tax time, we can continue to work across many positive life-changing programs and also expand our capacity to assist vulnerable communities through this crisis.