Family displaced by the Sulawesi Tsunami/earthquake
02 Nov 18
The life of 55 year old, Umi, was changed forever, when her entire neighbourhood was flattened by a mudflow caused by a masive earthquake that struck the island of Sulawesi, Indonesia on 28th September, 2018.
"When the earthquake struck, I panicked and prayed, 'Please, God help us,' Umi says.

"I grabbed my grandson and granddaughter. We couldn't run. We saw the land, the ground, splitting and cracking, with mud and water coming out of the ground. We walked with our neighbours and kept walking. We slept under the sky that night, as we brought nothing. It was dark, as the electricity was down. But, we're thankful we're safe," she says.

Up to 2.4 million people were affected when a 7.5-magnitude earthquake hit Sulaweis's Minahassa Peninsula. It triggered a tsunami, with waves of up to 6 metres, impacting Palu, Donggala, Mapaga, Gorontalo, and Poso. There was also a series of strong aftershocks.

Around 2096 people are known to have died, with more than 10, 000 people seriously injured.

Weeks after the deadly disaster, the cleanup operation continues and many people remain far from home. Over 87,000 people were displaced, taking shelter in evacuation centres or informal camps, with many more staying with relatives or friends.

In the most heavily-affected coastal areas, Caritas Australia's partner, Catholic Relief Services (CRS) notes that up to 80 percent of houses have been completely damaged. Displaced families are settling in a scattered manner, making it hard to confirm their numbers and locations.

Families who remain displaced and settled in temporary locations risk eviction, if their stay becomes long-term.

Challenging issues are also expected around land tenure in the coming months. The earthquake caused liquefaction, where saturated soil loses its strength, shifting building structures to significant distances from their original locations. Those affected are expected to have difficulty locating the boundaries of their land.

Over one month since the tsunami and earthquake hit, Umi and her family are among those who haven't yet returned to their village. "I've haven't come back to my house, I'm too scared to see my village. I have lived under the tents with my daughter and grandkids," Umi says.

Relief operations across Central Sulawesi continue, with Caritas partner, Catholic Relief Services (CRS) emergency responders working closely with Caritas Indonesia (Karina) to access hard-to-reach areas and meet the urgent needs of the most vulnerable.

CRS and Caritas Indonesia (Karina) aim to provide immediate relief to over 10,000 families, through the direct distribution of supplies or, in areas where markets are functioning, through cash assistance allowing people the flexibility to purchase items of greatest need for their families.

In some villages, the public water system is still in place, but the piping channel has broken and needs repair. Rehabilitation and the clean-up of wells have been identified as the main priorities to improve access to clean water for drinking and washing.

CRS and its local partners are prioritising the distribution of water kits and hygiene supplies, while waiting for the full rehabilitation and clean-up of wells. They are also procuring water tanks to facilitate water access.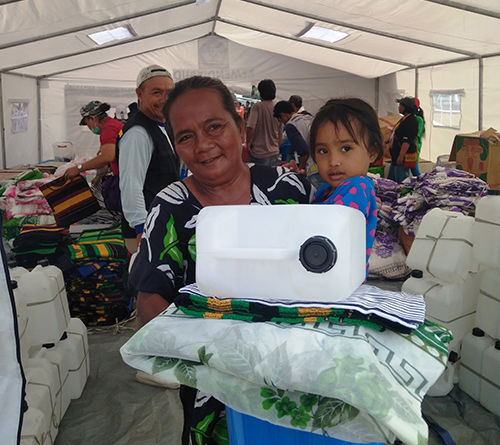 Umi, receives household kit 
Photo Credit: Caritas - CRS Staff
They have already distributed essential food and non-food items to 6,000 householeds, as well as 9,900 tarpaulins and 2,000 kits of household and hygiene supplies to affected families.

Umi's family is one of the recipients of these kits.

"We are thankful for so many kind people helping and caring for us. Some people have helped us build water tanks and provided clean water. It's very important to us. My granddaughter also received baby food and kits," Umi says.

CRS hopes to assist over 190,000 people over the next three months.

Although Umi doesn't know how long they will remain living in a temporary shelter, she's grateful that her family is safe and together.

"I'm thankful we survived now. I don't know what fate will bring us. I don't know how long we will stay here under the tent, but we're together with other neighbours here. Thank you for helping us."