Djilpin Arts – Go Further Together for a hopeful future
21 Mar 20
Harmony Day is an annual celebration of cultural diversity that coincides with the United Nations International Day for the Elimination of Racial Discrimination. Since 1999, the day has been uniting millions of people at multi-cultural events across Australia, fostering an atmosphere of inclusivity and acceptance.
Caritas Australia, the international aid and development agency of the Catholic Church in Australia, works with Aboriginal and Torres Strait Islander peoples, to deliver First Australian led programs that address poverty, uphold justice, cultural difference and promote peace, helping them to become architects of their own future.
Djilpin Arts is a Caritas Australia supported project, fostering the development of social harmony, cultural identity, healing, leadership and the creation of culturally meaningful enterprises in an inclusive and cohesive setting.
The not-for-profit organisation based in Beswick (Wugularr), on the traditional land of the Jawoyn people, boasts a gallery, café, workshops, accommodation and more. It was established in 2002 to maintain and promote local and traditional contemporary Aboriginal visual, and performing arts and culture. Community ownership and responsibility are at its core.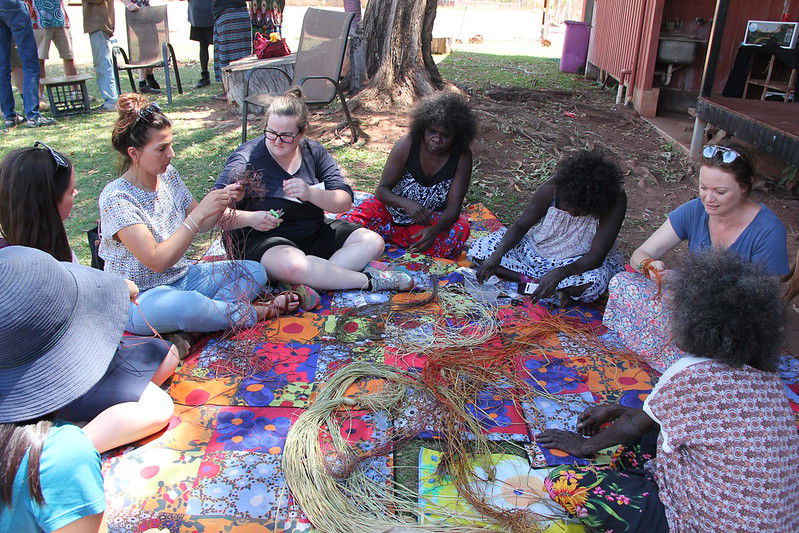 The community of Djilpin Arts have a strong sense of social connectedness, which brings families together, supports younger generations to maintain ties to their cultural traditions and offers employment opportunities. There are many opportunities for the public to experience cultural immersions and attend festivals.
The Djilpin Arts project is an important way that Aboriginal and Torres Strait Islanders communities can express their cultural identity through the arts as they build culturally meaningful enterprises.
For over 50 years Caritas Australia has worked in love and compassion, with Aboriginal and Torres Strait Islander communities. Thanks to the generous support of the Australian community, we are able to continue to carry out this work.
Caritas Australia has 13 partner-led First Australian programs. The programs are all directed at helping vulnerable Aboriginal and Torres Strait Islander communities recognise their need for change to become architects of their own future.  
For more information on Caritas Australia's partnership with Djilpin Arts visit here
To find out more about our First Australian Programs visit here
To donate to Project Compassion visit here