Celebrating biodiversity for World Environment Day
05 Jun 20
On June 5 every year millions of people in more than 100 countries celebrate World Environment Day—the United Nations' flagship day for promoting awareness and action for the environment. The theme this year for World Environment Day is 'Celebrate Biodiversity'.

According to a United Nations report on biodiversity last year, around one million animal and plant species are now threatened with extinction in the coming decades. Loss of biodiversity has significant impacts on ecosystems, nutrition, livelihoods, and even health. 

Emerging infectious diseases such as Ebola, bird flu, Middle East Respiratory Syndrome (MERS), Sudden Acute Respiratory Syndrome (SARS), Zika virus disease and even COVID-19 are linked to biodiversity loss, as when ecosystems are disrupted there are more opportunities for diseases to jump to humans.

The World Health Organisation advocates for a One Health approach, in which global health issues are addressed in terms of human, animal and environmental health, as the three are inextricably linked. In Caritas Australia's work overseas, the link between humans and their environment is recognised, and many programs focus on ways to improve communities' use of land, so that agriculture is more sustainable long term. 

In Malawi and Tanzania, two countries known for their incredible biodiversity, local ecosystems are under threat due to deforestation for fuel use, increasing use of the land for agriculture, illegal logging and changing weather patterns.Caritas Australia, in partnership with CADECOM (Catholic Development Commission in Malawi) Malawi and the Diocese of Mbulu in Tanzania, works with marginalised rural communities to improve food security, support livelihoods and improve access to water and sanitation. This program, called the Malawi and Tanzania Integrated Community Development Program, promotes environmental awareness and environmentally friendly practices, including reforestation and conservation agriculture, which are designed to improve soil quality and conserve water.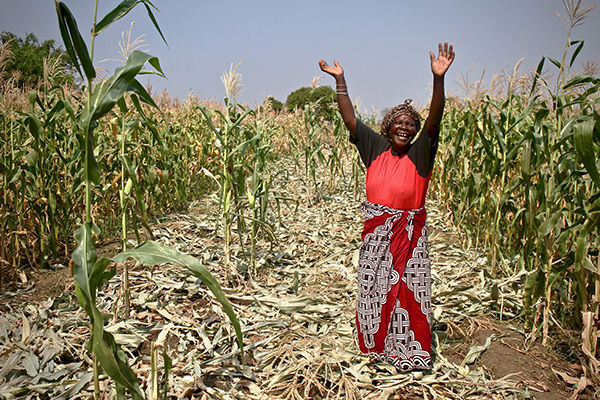 The program also focusses on increasing food security and income, which means that households will have improved living standards and will be less likely to turn to illegal logging or poaching to supplement their income. So far, the program has supported over 13,000 people across Malawi and Tanzania, including 4,446 farmers that have been trained in improved agricultural techniques such as organic fertiliser making and crop rotation. Eight beekeeping clubs have been founded to provide another means of income, which has the secondary benefit of supporting the biodiversity of the region through pollination.
Your support of Caritas Australia's work is empowering communities to have long term-preparedness against the challenges of coronavirus and move forward with hope. Health care, sanitation and emergency food kits are saving lives. Donate now ahead of the end of the financial year. All donations are tax deductable. 


By Jessica Stone - Advocacy Officer, Caritas