Caritas Immersion Experience Timor Leste October 2018
16 Oct 18
Sue Coghlan is the Assistant Principal of Religious Identity and Mission at St Raphael's School, Parkside (SA). She has recently returned from an Immersion trip to Timor Leste, where Caritas supports a number of programs. She shares her experience with us below.
I was greeted with many questions before my Caritas Immersion Trip.

Where is Timor? Is it safe? What are you doing there? Are you building a house?
Can I give you anything to take?
It does take a bit of explaining to share the Caritas philosophy and I certainly have a far greater understanding of it after my participation in the Caritas Global Immersion Course in 2017 (a prerequisite for an immersion experience.) We looked in depth at Catholic Social Teaching principles and how these are lived out in the work of Caritas and their partners. Through our Timor experience I witnessed
The Dignity of the Human Person in the way the partners respected each other and the communities who are engaged with Caritas supported programs.
Subsidiarity in the way the women in a village decided they wanted to develop a microfinance scheme and then worked with Caritas and partner organisations to establish and maintain this.
Preferential Option of the Poor as we drove 2 hours off the beaten track to reach the village of the community most in need.
Stewardship of Creation in the way a village developed the gardening skills to be self-sufficient over 2 years.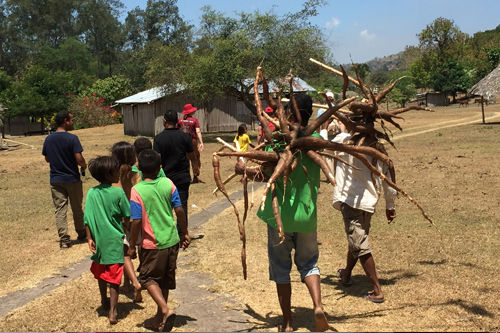 Caritas Immersion participants were invited to help harvest some Cassava in the village of Taitudac in the Manufahi District with Caritas partner Luta Ba Futuru.
Photo Credit: Megan Bourke/Justice Educator, Melbourne
It was a privilege to walk in solidarity with the incredibly inspiring Timorese people. All in our group were struck by their kindness and generosity of spirit. We certainly saw the "strength based approach" as they looked at what they could do before they strategically planned what they could do next. While recognising and affirming the incredible work that is being done, I felt an urgency to "be more" so that programs could be extended to help more communities. 
If you have come to help me, you are wasting your time. If you have come because your liberation is bound up with mine, then let us work together.
So now we return to our communities walk in solidarity with our Timorese friends and advocate for change.  Federal MPs can expect to hear from us soon.
L-R Suzy Penberthy (Justice Educator, South Australia), Megan Bourke (Justice Educator, Melbourne) and Sue Coghlan (APRIM, St Raphael's School, Parkside) enjoying morning tea together at the welcome ceremony hosted by Caritas partner Luta Ba Futuru (Fight for the Future) in Manufahi District. Each of the Caritas Immersion participants were given a Tais (traditional woven fabric) as a sign of friendship and welcome.
Photo Credit: Holly Roberts/Caritas Australia
Author: Sue Coghlan, Assistant Principal of Religious Identity and Mission at St Raphael's School, Parkside (SA).