Caritas Australia marks World Day of the Poor
15 Nov 18
In his statement for World Day of the Poor, Sunday November 18, Pope Francis has spoken of the way that "…many initiatives, meritorious and necessary in themselves, are meant more to satisfy those who undertake them than to respond to the real cry of the poor."
It's in this spirit that Caritas Australia is marking World Day of the Poor, as an opportunity not to 'reach down' to the poor, but to be enriched by our encounter with them.

For Nic Nelson, Caritas Australia's Head of Advocacy and Communications, Caritas' poverty reduction work is about long-term community improvement.
"Here at Caritas Australia, we are working on the 'long-game,' creating a more just world, at peace and free of poverty, where all people can live in dignity," Mr Nelson said.
"This means that we cannot have a short-term mentality, or be in the business of 'quick-fixes,' rather we partner with communities, identifying their existing strengths and investing in programs that deliver dignity, just and peaceful relationships, sustained economic wellbeing, resilience, and independence."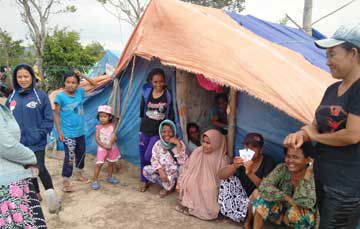 Caritas Australia's response as part of the Caritas network is
helping Indonesians recover from the impacts of the Tsunami
Sulawesi.
Photo: Maria Josephine Wijastuti CRS
The Caritas network's response Indonesia, for example, allowed a quick response to the impact of a powerful earthquake and tsunami; however it's the pre-positioning of disaster resources like tarpaulins, water and food and the shoring up of infrastructure in disaster prone countries whereby Caritas saves many lives in the frequent weather hazards which occur around the Pacific rim of fire.
Closer to home, Caritas Australia stands in solidarity with social justice organisations around Australia. In the Archdiocese of Sydney, the World Day of the Poor will be marked with a festival on Friday November 16, between 12 and 2pm, in the forecourt of St Mary's Cathedral.
Archbishop Anthony Fisher will join 30 social justice organisations who care for the poor and the homeless, including Cana communities, St Canice's kitchen, The Matthew Talbot hostel, Vinnie's Night Patrol and the Wayside chapel.
Fr Peter Smith, promoter of Justice and Peace for the Archdiocese of Sydney has spoken of the importance of Caritas's work on the International Day for solidarity with the marginalised.
"… Caritas's mission is not just to fund projects for the poor but to connect (Australian) communities to them ... as well as in response to various world crises," Fr Smith said.
Fr Smith also spoke of the poverty often overlooked in our own society.
"I think that the poor are often hidden in our society and we see those who are the rough sleepers and we may give them a few coins but it's important that we identify with them as well as the hidden poor who are living in boarding houses, unsecured accommodation as victims of domestic violence, those suffering mental health issues and those who are coming out of jail," he said.
Your support of Caritas Australia's work with First Australians in our own country as well 88 long-term partnerships in 27 countries internationally, is delivering justice this World Day of the Poor. Donate today.
Caritas media contact: Nicole Clements on 0408 869 833/nicolec@caritas.org.au or Susan Duric on 0407 536 130/ caritasmedia@caritas.org.au