Building strength and resilient communities
19 Dec 18
The remarkable strength, resilience and hope of the communities Caritas works with, despite the many challenges they face was a source of inspiration for Paul O'Callaghan, Caritas Australia's CEO, during a recent visit to communities in Indonesia.
Across Indonesia, Caritas Australia's programs through our partners like Caritas Indonesia (Karina), and a Muslim social support agency in West Java,  Laz Harfa, focus on issues including disaster preparedness, livelihoods improvement, community health and community empowerment.
Paul O'Callaghan visited two communities in West Java Banten and heard first hand from women leaders about how they had proceeded to improve local sanitation and other infrastructure through collective savings programs.  Leadership committees in both communities focussed at the outset on the strengths within their communities and then undertook a detailed examination of family income and expenses over time.
Based on this approach, both communities have succeeded in achieving significant savings, which have been directed into community initiatives to improve living standards and ensure that their children would be able to attend school.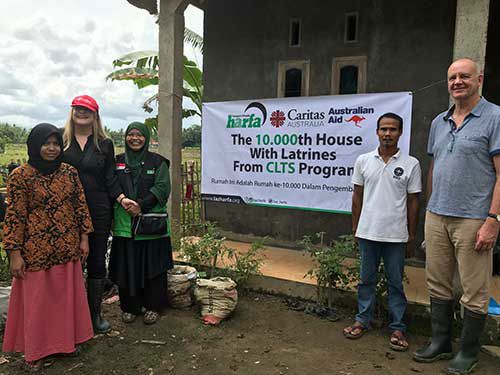 Caritas Australia's CEO Paul O'Callaghan and Manager, South East Asia Kath Rosic's visit to Indonesia
Photo Credit: Kath Rosic
Indonesia has been struck by several major disasters this year, one was a 7.5 magnitude earthquake and tsunami struck the Indonesian island of Sulawesi, affecting 2.4 million people. In its aftermath the Caritas international network, supported by Caritas Australia, is working on the rehabilitation and clean-up of wells as key priorities to improve access to water to assist people in returning home.
Paul said that the stand-out feature of these visits was "to see how a modest level of accompaniment of village-based communities can lead to huge change in the lives of local people. This is not only in terms of material changes, but also in their much greater confidence from the programs to speak up on behalf of their people on other matters with local and regional authorities." 
Their three year dream is to be independent, for their children to go to high school, to have good infrastructure, a clean environment and healthy children.
"Over four years, they had committed their families to a budgeting process which enabled them to collectively pay for every household to install a toilet. Based on this initial success, they are now expanding their focus to a range of other community improvements, especially ones which will benefit children.  They are also more confident than before in working with local authorities."
Find out more about Caritas Australia's programs in Indonesia.