Building lives and livelihoods: International Day of People with Disability
28 Nov 18
On International Day of People with Disability, December 3rd, Caritas Australia celebrates the achievements of the thousands of people who have taken part in its program in Vietnam – "Empowering People with Disabilities."
Supported by the Australian Government through the Australian NGO Cooperation Program (ANCP) and run by Caritas Australia's partner in Vietnam, Sustainable Rural Development (SRD), the program helps young people gain access to inclusive education and health services, develop livelihood skills and strengthens the skills of teachers and parents of children with disabilities, through involvement in People with Disabilities (PwD) clubs.

Here's a snapshot of some of their stories: 

Fisherwoman and her motorised net
Photo credit: Caritas Australia
Meet Hoa from Central Vietnam.

As a fisherwoman in a village where fishing is traditionally-male work, she stands out. Unable to farm due to a labour accident when she was 18 - and with a daughter to support on her own - Hoa turned to fishing. However, she wasn't strong enough to pull in the net.
Through a loan from the program, she was able to invest in a motorised fishing net. At the touch of a button she can now reel in enough to earn a good income.
"I am very proud. I enjoy being a role model to show that as a woman with a disability I can still do hard work. I know I can do it!" Hoa says.
Empowering persons with disabilities and ensuring inclusiveness and equality
Mother and son

Truc Tiep's says her son's life has been transformed since participating in the SRD program.
"Previously I just hugged my son and cried because I did not know how to help him with rehabilitation," Truc Tiep says.
"He was born with hydrocephalus, so could not stand or walk. But since a therapist from the SRD program came to visit us at home, my son has changed a lot," she says. She has learned to do basic physical therapy techniques at home, saving her money and providing many health benefits.
Photo credit: Caritas Australia
"Now he is able to run, to talk, to sing and to play with other friends and to sit behind me on a bike when we go out."
Truc Tiep also received grants and loans from the program for raising livestock. This has enabled her to move beyond just working as a labourer to earn an income for her family.
A grandmother's dream 
Born with cerebral palsy, Lihn's' parents died when she was just nine months old, leaving Linh and her siblings orphaned. They live with their 75-year old grandmother.
For many years, Linh has only been able to sit in one place and has depended on her grandmother's help.
However, with home-based rehabilitation and literacy tutoring through the SRD program, Linh's life has gradually changed. Now she can walk with a parallel bar, read and text on a mobile phone to her friends.
"I just hope that with continuous support from the SRD program, my granddaughter will make more progress to be able to help herself" her grandmother, Thi Dieu, says.
Photo credit: Caritas Australia
Around 6.7 million people are currently living with a disability in Vietnam
And their challenges are compounded by stigma and discrimination.

Enriching life and earning an income
Queyen has a six year old son, Van, who was born with severe hydrocephalus and congenital heart disease.
She joined the SRD program's People with Disabilities (PwD) club in 2017 and acted as the deputy head of her area's parent group. These groups help to strengthen the skills of parents of children with disabilities. It also provides an outlet to learn from each other, building confidence and networks of parents in the community.
"I felt guilty about the situation of my son, so for a long time I was very afraid of making friends with people around me," Queyen says.
"But since joining the club, I feel more confident, especially about learning how to better care for my children."
She was supported with grants from the program to raise cows – one has now even given birth to a calf. Queyen hopes to raise cows in the future, to develop herds so that she can earn a better income.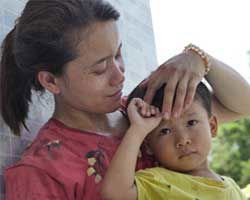 Photo credit: Caritas Australia
Working cheers me up

Thanks to a loan from the SRD program in 2016, Ha was able to invest in pig-raising. He found that this work was something he could manage despite living with a physical disability. Ha has since repaid the loan, giving someone else the opportunity to benefit from the program.
Every year, Ha is able to sell three litters of piglets, making a tidy net profit.
The extra income has benefited Ha's entire family which they are very grateful for.
 'Working cheers me up and builds my confidence," Ha says.


Photo credit: Caritas Australia
Teaching ambitions
After graduating from teacher's college, Phuong, who lives with a physical disability, had trouble finding a job. However, after a recommendation from her neighbours, she joined her local People with Disabilities (PwD) Club.
There, Phuong had the opportunity to teach children with disabilities who are unable go to school.
"Although I found it very physically difficult, the opportunity has given me the motivation to pursue my teaching career," Phuong says.
She says she would like teaching to be part of her long-term future.
"My favourite job is to support the children in the same situation as mine, I feel life is more meaningful," Phuong says. "I am doing my favourite job"
Photo credit: Caritas Australia