International Day of Persons with Disabilities – Breaking Barriers and Opening Doors
03 Dec 19
Today marks the International Day of Persons with Disabilities an annual observance established by the United Nations in 1992. On this day the rights and well-being of people living with a disability are commemorated. Their achievements and contributions are celebrated and, despite countless obstacles, we are reminded of the positive role they have to play in the community.
 I have something, you have another and together we have something bigger and more beautiful. This is how we go forward – Pope Francis
Though there is work to be done in building an inclusive world for all, considerable progress has been made in recent years.  Caritas Australia has made great inroads with their programs, designed to support people living with disabilities, by giving them the tools to build sustainable livelihoods and hopeful futures.
Photo credit: Caritas Australia
Empowering people with disabilities
In Vietnam, around 6.7 million people are currently living with a disability. People living with disabilities are among the most disadvantaged groups in society because they face numerous social, physical and emotional barriers which hinder them from fully integrating into their communities.
With funding from the Australian NGO Cooperation Program (ANCP), Caritas Australia has been working with its local partner Sustainable Rural Development (SRD) to establish the "Empowering People with Disabilities" program. The program helps people living with a disability gain access to employment, build confidence and status within their community, prepare for natural disasters and gain access to education and health services.
Lives have changed for many individuals and families who have been involved in this program.
In a village where fishing is traditionally done by men, Hoa stands out. Unable to farm due to a labour accident, she turned to fishing. But she wasn't strong enough to pull in the large nets.
Through a loan from Caritas Australia, she invested in a motorised fishing net. Now she can now reel in enough to earn a good income.
"I am very proud. I enjoy being a role model to show that as a woman with a disability I can still do hard work!"
Since appearing in the storybook Hoa says it serves as a reminder of what she's achieved, "it means a lot to me and other people with disabilities."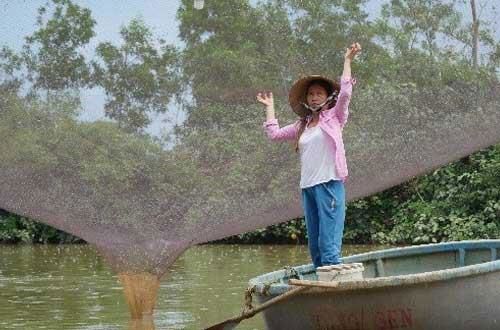 Photo credit: Caritas Australia
Phan Van Phan was born with hydrocephalus and brittle bones. Because of this, he was only able to lie in one place and move his two hands. His parents, both agricultural farmers, work tirelessly to make ends meet and to provide resources for their son.
The Empowering People with Disabilities program by Caritas Australia and their partner SRD, sent a therapist to visit him and showed his parents rehabilitation exercises.
Gradually, Phan's health has improved. He is now able to read and write thanks to Ms. Mai Phuong, another participant of the SRD program.
Photo credit: Caritas Australia
Did You Know?
Over 1 billion people worldwide experience a form of disability. This corresponds to 15% of the world's population
½ people with a disability experience a range of barriers to health services
Disability disproportionately affects the worlds' most vulnerable population
Rates of disability are on the rise due to an ageing population and more chronic illness
Source: WHO
More stories can be found in our International Day of Disability Blog here.