Becoming a Woman for the World – Anu tells her story
29 Jul 19
Anu is the face behind Bidiliia Jewellery specialising in elegant, sparkly, ethical jewellery. We first met her during last year's Women for the World campaign. Despite being a start-up business, she generously donated two sets of jewellery which were auctioned, with all proceeds going to Caritas Australia-supported programs geared towards empowering women.
We spoke to Anu about Bidiliiia, her interest in Women for the World and how women in business can empower vulnerable women to be architects of their own destiny.
Photo credit: Caritas Australia
Tell us a little bit about yourself and what made you interested in ethical jewellery?
I worked in design and retail for 15 years where I worked with other brands, designers and export and import houses. Sadly, the one consistent thing I could see was a lack of empathy. I found there was a lack of care over who made products, how it was made and whether worker's rights were being adhered to.
I dealt with this day in and day out and eventually it was exhausting. I told myself, "if I start my own business, my artisans are going to be happy people." This is where Bidiliia started. I've designed accessories before, shoes and bags included but I live in a Sydney apartment and a shoe brand would be a logistical nightmare!
Eventually, I decided it was jewellery. It started as an idea that the people who create for me will be respected and create with joy, knowing that their craft is supported and their families are secure. They'll be paid well, have enough time off and they're just going to have happy lives. I truly believe that happy people make happy things. This reflects every single piece that gets delivered to my door and yours.


Why do you support the Women for the World Campaign?
It's a great campaign to support because it goes back to helping others have a better life – a safer environment to live in, access to basic and necessary resources, the things we take for granted. But also, no matter what kind of society we live in, women don't often take the forefront and aren't given the support and resources to reach their potential. I believe Women for the World encompasses all of these things – poverty, education, sustainable livelihoods and happier lives - helping leverage better lives for women in the world.. It sat well with what I was doing.
Proceeds to Women for the World go towards programs that are empowering vulnerable women to be architects of their own destiny. For some, this means enabling them to develop skills to become entrepreneurs. As a female creative entrepreneur, how important is it to support each other?
I think this is so important! Women are great at multitasking, and this is only enhanced by our empathetic side. We try and move along as a clan. When women are supported and move forward they ensure that everyone around them progresses as well. 
Women, when given the opportunity, tend to inspire their families to rise up and be good role models for the next generation. They take everyone along! It not only empowers them but grows their entire family and community so it's super important for women, no matter where we live, to be in business and do things that make a difference.
We're so excited to have you on board for Women for the World for another year!
I'm just grateful for having this opportunity to be part of Women for the World again this year! It was amazing last year and I'm so, so happy that I've been invited to be on board as a start up and small business. It's hard to come across opportunities like this where it benefits me as a business but more importantly it benefits wider society. I think that's empowering.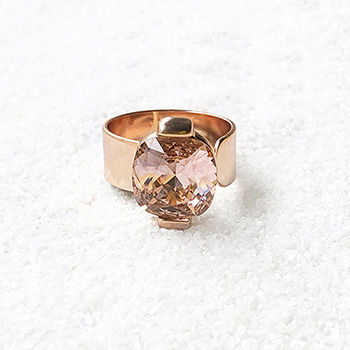 Photo credit: Bidiliia Jewellery
Sets of Bidiliia Jewellery will once again by auctioned at this year's Women for the World luncheons. If you are interested in attending a luncheon or would like to host a fundraiser, please visit the Women for the World website.