Fruit orchards flourish as struggling farmers build thriving business
14 Feb 20
Fifty-eight year old Mintu Mia, lives in a village in the Rangunia Upazila area of the Chattogram region of Bangladesh. He is a poor farmer with only a small plot of land, so he also works as an agricultural labourer for other farmers. His wife, 55 year old, Maimun, is a housewife who also works as a labourer.
Mintu has four sons and two daughters who are all at school. He was scraping by, trying to make a living cultivating tobacco but it brought in little income.
In 2018, the local Rangunia Agriculture Office realized the potential of growing fruit, rather than tobacco in the region. With the help of Caritas Australia and Caritas Bangladesh, supported by funds from the Department of Foreign Affairs and Trade (DFAT), through the Australian NGO Cooperation Program (ANCP), tobacco farmers were encouraged to shift to planting fruits instead.
The Sustainable Food and Livelihood Security (SuFoL) program aims to boost livelihoods through diversifying crops and adopting sustainable farming techniques.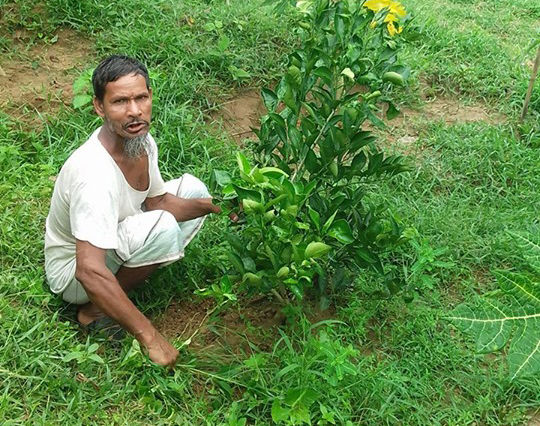 Now Mintu grows papaya, mango and a local orange, called Malta, as part of a collective marketing effort with seven other former tobacco farmers.
Their fruit orchard covers two acres of forest land, leased from the government for 99 years, an arrangement that was also facilitated by the SuFoL Project Team.
Due to his motivation and training in fruit cultivation and community marketing skills, Mintu has increased his current income, as well as boosting the long-term sustainability of farming production – which benefits the environment at the same time.
The farmers are now using sustainable practices, including organic fertilizers - like cow dung, vermi compost, and organic pesticides – like the juice of neem leaves and mahogany fruit. They are also using Integrated Pest Management (IPM) technologies, such as pheromone-impregnated traps used to lure insects
Now their orchards are flourishing. Around 550 orange and 650 papaya trees, planted in September 2018, are now in the fruiting stage. Mintu and his fellow farmers have already harvested 4,425 kilograms of papaya which they sold at the local market for AUD3,016. They expect that they will earn a further AUD2045 from their oranges and papaya by December 2019.
All up, this will mean that they have achieved over a 100 percent profit on their investment.
Many of the farmers in the area are now motivated to follow in Mintu's footsteps – inspired by the success of his farming group to embark on a mixed fruit gardening enterprise themselves.
Photo Credit: Caritas Australia