5 things to know about St Josephine Bakhita
25 Jul 19
Human trafficking is a horrific crime that exploits men, women and children worldwide and is a severe violation of human rights.  It is estimated that millions of people are trafficked annually into vulnerable situations. As an international community, we reflect on actions we can take to prevent trafficking and to support victims.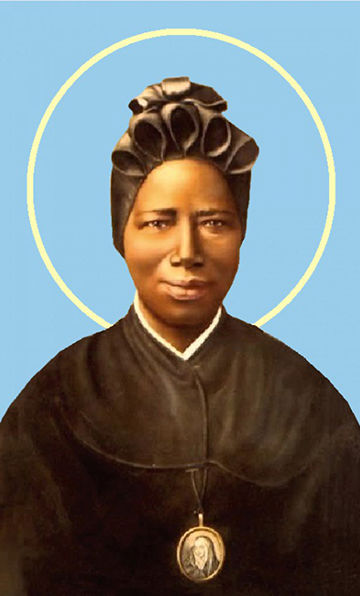 St Josephine Bakhita, who was sold to slavery at a young age, is known as the patron saint of victims of modern slavery and human trafficking. Her Feast Day is on February 8, also known as the World Day of Prayer, Reflection and Action Against Human Trafficking.
 Here are five things you should know about her:
She did not know her birth name. St Josephine experienced such trauma during her kidnapping that she forgot her own birth name. Her kidnappers named her 'Bakhita' meaning 'fortunate'. She was sold and re-sold four times over 10 years and endured physical and emotional mistreatment daily.
An Italian official was her key to freedom. Callisto Legnani eventually purchased Bakhita and she was pleasantly surprised when the cruel treatment of her was over. In Legnani's residence, she experienced kindness, joy and love.

Changes in the arrangements of her owners meant she was entrusted to the Canossian Sisters. It was under the care of Canossian Sisters at Venice's Institute of the Catechumens where she felt drawn to the Catholic Church. After several months here, Bakhita received the sacraments of Baptism and Confirmation and was given the new name 'Josephine'.

On December 8, 1896, Josephine Bakhita became a sister at the convent. For the next 50 years of her life, she served her community joyfully by cooking, sewing and welcoming guests at the door. Her kindness was well-loved by the children attending the school nearby and all local citizens.

St Josephine Bakhita is an inspiring role model of forgiveness. In her diary she writes, "If I were to meet the slave traders who kidnapped me and even those who tortured me, I would kneel and kiss their hands. If what happened to me had never take place, how would I become a Christian and religious?"
As she grew older, Josephine Bakhita was sickly and she died on February 8, 1947 at the Canossian convent surrounded by other sisters. She was named one of first the saints of the new millennium by Pope John Paul II on October 1, 2000.
Check out our new resource on human trafficking and modern slavery. -  Primary School Resources | Secondary School Resources