2018: The year that was
18 Dec 18
As we say goodbye to another fruitful year, we reflect on 2018 and the many stories of hope, determination and strength that have inspired us.
It is only through the immense generosity of you, our supporters, which have made our work this year possible. 
Project Compassion
Once again, we were humbled by the generosity and support given to us as we raised $10.8 million in the theme of 'A Just Future'. This year's campaign introduced us to some new faces; Bayan from Syria, Janaki from Nepal and Rattanak from Cambodia. We were also revisited by some familiar faces; Evangeline from Australia, Ditosa from Mozambique and Psyche Mae from the Philippines.
Rattanak from Project Compassion 2018
Photo Credit: Caritas Australia
Humanitarian Effort
In September, Indonesia was struck by a magnitude 7.7 earthquake in Sulawesi, triggering an unexpected tsunami which devastated surrounding cities. Caritas Australia's local partners Catholic Relief Services (CRS) and Caritas Indonesia (Karina) were on the ground, distributing essential food, water and hygiene supplies to thousands of households. Learn more about our Emergency Responses and Appeals in Asia.
The Philippines were battered by Cyclone Tembin near Davao City in January and  Typhoon Mangkhut in parts of Luzon in September.
Caritas Internationalis provided much-needed rapid emergency relief. Father Edwin Gariguez, Executive Secretary of NASSA (Caritas Philippines) said that strong investment and support by Caritas Australia in disaster risk reduction helped local communities prepare for and effectively respond to Typhoon Mangkut.
A village impacted by the cyclone in Lanau del Norte province.
Photo: NASSA/Caritas Philippines
We continued to respond to the refugee crisis in Bangladesh. It is estimated that more than 600,000 people who identify as Rohingya have crossed the Myanmar border. Caritas Bangladesh has been responding to the immediate needs of those in need, supporting over 305,000 individuals.


Our work in these areas were made possible by our supporters. We thank everyone who donated to our Asia Emergency Appeal. Our efforts in Sulawesi were supported by the Australian Government through the Department of Foreign Affairs and Trade. 


Advocacy
There is growing evidence to show that climate change is affecting the Pacific and undermining years of development work. In 2018, Caritas Australia alongside our partners in New Zealand, Papua New Guinea, Samoa and Tonga, published the Caritas State of the Environment for Oceania Report. It detailed stark circumstances including increased coastal erosion and rising sea levels in the Pacific, despite the area's lack of historical contribution to emissions.
We were fortunate enough to have Anote Tong, former President of Kiribati and prominent climate activist, drop by the National office to talk about the effect climate change has had on his home country, and remind us that our actions should always be for the common good.
June was a bittersweet time for our Africa and Latin America team as we said goodbye to our long-term partners in Brazil and Peru, while celebrating the progress that has cultivated as a result of these partnerships. Caritas Australia's former Manager, Africa & Latin America, Siobhan Jordan says she was struck by the amount of heart, love and empathy our partners in this region displayed in their work.
Community Action
In September, we launched our Women for the World campaign, inviting people to stand in solidarity with women in poverty around the world. Women across Australia hosted their own events in their schools, workplaces and local communities to raise awareness and money to help empower women in marginalised communities everywhere. 
Notable this year was first-time fundraiser Mary Verghese who hosted a Curry In A Hurry High Tea which also included games and raffles. Her determination and hard work paid off, raising $1300 for Caritas, almost double her initial goal.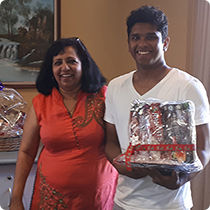 Mary Verghese. Photo credit: Mary Verghese